Head Master addresses parents at end of year celebration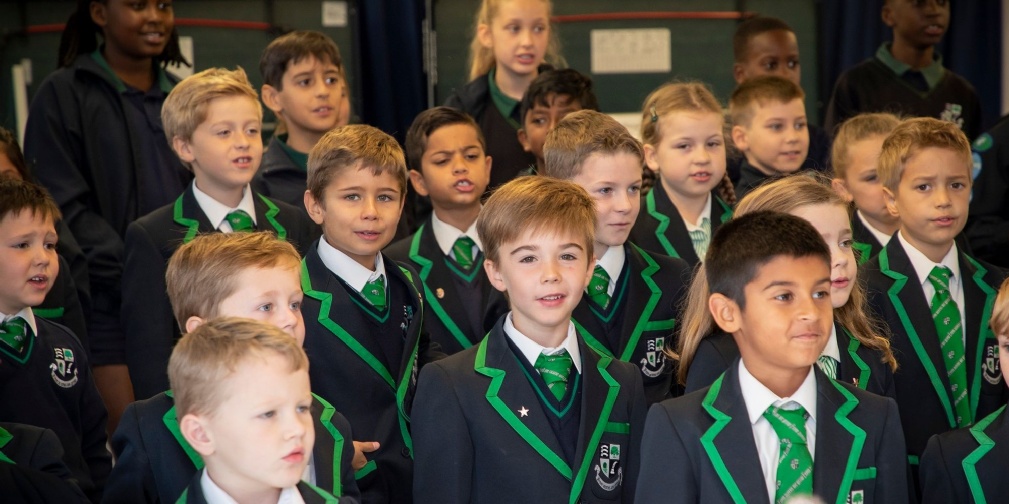 David Bell speaks to parents and guests with pride and compassion after another very successful year!
Chairman, directors, distinguished guests, ladies and gentlemen – good evening and a very warm welcome to The New Windmill Hall in Upminster for our annual prize giving and speech day; our annual celebration of your children's achievements and successes this year.
I am deeply honoured to be a part of what is your prize giving, children and yet again I stand here in awe of your successes and accomplishments – and your generosity of spirit – your maturity and understanding that not all of you can take away a prize this evening and the joy you show for your friends who do is humbling and a lesson to all of us.
If I were to line up all the preparatory school headmasters and mistresses and their approach to speech day I think you would find a wide and diverse range of approaches – from the cool, funky, let's dance around the stage type to the rather more austere who chooses to give a blow-by-blow account of the cricket XI's wins and losses in a dour 45 minute discourse which leaves half of the hall asleep and the other half wondering what they'll watch on TV later that evening!
With due respect to all of those Heads - and I've met a lot of them, I hope I sit somewhere in the middle – I have been known to dance across the odd stage at times, but I think those days are behind me – I could never perform with the confidence your children show.
What I am going to try and avoid doing is standing here and listing every success and achievement this year – it would take too long – as anyone who has sat in one of our marathon Friday celebration assemblies will testify! I hope with our newsletter and our use of social media you know about all of these wonderful things your children do on a daily basis anyway!
Instead I want to talk about confidence – confidence – that vital and intangible skill which exists within every child at Woodlands. The ability to walk on stage in front of a crowd of people and sing or deliver lines or use their physical skills in sporting competitions.
Every child in this room has stood up, addressed their inner fears and presented themselves on stages – and what a range of stages – from nativities to class assemblies, from LAMDA performances to ISA drama competitions (where incidentally our astonishingly talented Year 4s won best musical for their performance of Matilda!) – stand up Year 4! From showcases to productions of Shrek, from violin solos to the Greatest Showman, from mothers' day and harvest shows and so much more – and not just the big stuff, but every day in class too.
Then consider the sporting field and the swimming pool – children have represented us at venues such as the Olympic Pool in Stratford and in sports as diverse as golf, triathlon, rugby, tennis, football, basketball, athletics, rowing and many more – all alongside being nominated for an award for our sporting prowess and I believe we may shortly be able to share some very exciting information regarding another huge award Mrs Raymond? You'll have to wait and see!
Or how about their talent at art – winning a whole swathe of awards in this year – including a first place at the ISA National Awards! Oh yes you did Adem! That Paddington will be worth a fortune in a few years!
Who's heard of the game Jenga children? You have to pull away the blocks until the tower falls. Each block you pull out makes the tower a little weaker. Now – imagine playing a game of Jenga in reverse – constantly adding blocks, each block making the tower stronger, more resilient, more robust. Every time you stand up on that stage children and learn those lines or sing that song, your personal Jenga gets a little bit stronger – every time you challenge yourself in the classroom or achieve a PB in athletics, you add another block and so on until your personal Jenga – your confidence - can't be knocked over anymore. That's what you're doing every day.
Those of you who attended my vision evening in September may remember I made 5 pledges for this year:
Getting the Word out there – making sure your children were recognised for their talents.
Reclaiming "Preparatory" and what it stands for – preparing your children for an uncertain future.
Focussing on mental health and wellbeing – an area overlooked for far too long in schools.
Introducing the Headmaster's Challenge – which I have to say has been hugely popular with the children who chose to take part at they will all be receiving medals and awards later this evening; and finally,
Embracing the wider community.
Have we achieved these aims, I'll let you judge, but in my opinion, yes, we have and no we haven't – let me explain:
These are ongoing goals, not ones which will be achieved overnight but I think we have made an exceptional start being recognised by both the Independent Schools Association and the Times Ed.
I'd like to share a story: possibly the proudest moments of my career as a teacher took place this year. For those who don't know, Mrs Parker is our SENCo, what this means is she is responsible for supporting every child in the school to ensure they can access every opportunity on offer. She does this so well in fact that one 1st February, Mrs Parker, Mrs Kernaghan and myself found ourselves at the Grosvenor House Hotel nominated for a Times Ed award for our learning support department. As I looked around the ballroom at the Grosvenor that evening sitting on a table flanked by Eton College on one side and Harrow on the other, it suddenly occurred to me – and I think to all three of us, just how special our little prep school in Essex is and the difference it makes to children's lives.
Some of you may not agree with everything we do – that's fine, we are always learning and listening and trying to get the balance right – this summer for the first time we will be running a summer school for our Year 5s, we've embedded more challenge into our curriculum and I'm excited to announce that we will be trialling the offer of the foundation GCSE for our most able mathematicians as part of our Challenge Award application which will be confirmed early in the new year.
We will always listen (we were nominated for an award in that too!) but what I will never compromise and will never change is the thing that makes our school so special – the celebration of a child's talent – whatever it may be and wherever it may lie.
I'll leave you with a couple of quotes from our inspection this year commenting on your children's excellent personal development;
Pupils of all ages demonstrate excellent speaking and listening skills, and outstanding fluency in communication which stems from the exceptional range of opportunities given to all
They use their excellent knowledge of letters and sounds to read and spell to a level far beyond that expected for their age.
Pupils have high expectations of themselves and of others, meaning exemplary behaviour is the norm.
Children well done every single one of you!
Oh, and back to our evening at the Grosvenor House – we didn't win that night, but you know what? It doesn't matter, we were there!
HMC
Before we get to the Headmaster's Cup, I'd like to talk about something new this year.
I introduced the Headmaster's Challenge earlier this year – loosely based around the 50 things to do before you are 11 and ¾ book.
I wanted to give the children a focus on a range of tasks from etiquette to public service, being good citizens and embracing the outdoors.
I am so proud of the children who took part and I would like to ask them up individually. Every child who took part will receive a special medal and a cup dependent upon the level they reached.
Rishi – Bronze
Kieran - Bronze
Thomas – Bronze
Alice – Silver
Ella – Silver/Gold?
Next year will see new challenges and an infant version – and I can't wait!
Now, onto the Headmaster's Prize – this is a very personal and very difficult decision to make but this Year's Headmaster's prize goes to a young lady who epitomises everything that makes our school what it is, the Headmaster's Cup 2019 goes to ……………….
I'd like to close this evening my thanking all the people in our wonderful school who make what we do possible.
I'd like to thank my Senior Leadership Team – Mrs Kernaghan, Miss Duthie, Mrs Burman and Mrs Parker – we have a group on Whatsapp for my SLT and I named it the Dream Team - I think it sums up everything they do – seen and unseen. I couldn't do it without you.
Thank you to my staff – you are amazing – every single one of you.
What you give of yourselves, how you support one another, how you support each member of our team through good times and bad – thank you one and all.
Finally thank you to the directors – for understanding how what we do matters and believing in education.
Please do join us for drinks and Canapes. Thank you and have a wonderful summer.